By Ryan Dent
Utah experienced a 10% increase in the number of venture capital (VC) backed startups that received funding in 2019, compared to the prior year. A total of 65 companies received $1.1 billion, which represents a 47% increase in dollars received and making 2019 the second largest year ever for Utah's VC-backed startups, according to the PwC/CB Insights MoneyTree™ Report.
Investments into internet sector companies attracted the lion's share of venture dollars in Utah. Internet companies accounted for 45% of all investments in the state with $484 million going into 41 deals, more than double the share of the next leading sector, mobile and telecommunications, which received $2 million into 5 deals.
Expansion stage companies received $532 million from investors in 2019, which is a 22% increase over the prior year. Later stage companies came in second in total dollars at $312 million, a 200% increase compared to the year before. The number of Seed stage deals dropped only 7%, from 14 in 2018 to 13 in 2019, while the increase in the corresponding amount of dollars invested was 50% with $40 million in 2019 compared to $27 million in 2018.
Of the top 10 deals in 2019, the largest deal was raised by a FinTech company. Three other FinTech companies made the Top 10 Deals list. More than half of top deals were SaaS offerings. The top three deals received as much investment dollars as the remaining seven combined. Aside from FinTech and SaaS, the list of top deals in 2019 saw investments in companies in the healthcare, industrial and traditional software sectors.
Utah continues to be disproportionately important to the startup and innovation community in the US. Utah ranks at number 12 for dollars invested in startups in 2019 – contrast this with the fact that it does not rank in the top half of US state economies by size. The state benefits from a confluence of factors that reinforce each other and support innovation: a constructive regulatory environment, a highly educated workforce and the anchoring presence of several large technology companies.
2019 National Results
In 2019, venture capital backed startups raised $108 billion across 5,902 deals, with total dollars decreasing by 9% and the number of deals decreasing by 8%.
The internet sector captured the largest amount of dollars invested both nationally and in Utah. There was $44.5 billion invested in 2,540 deals, accounting for 41% of total dollars invested in the U.S.
Healthcare was the second largest investment sector for the year in terms of dollar investments with $19.8 billion going into 862 deals. Mobile and Telecommunications received the third largest amount of investment with $11.8 billion going into 671 deals.
Similar to Utah, companies in various stages of development benefitted from the robust VC environment in 2019. Later Stage investments captured the most investment dollars nationally at $40.2 billion.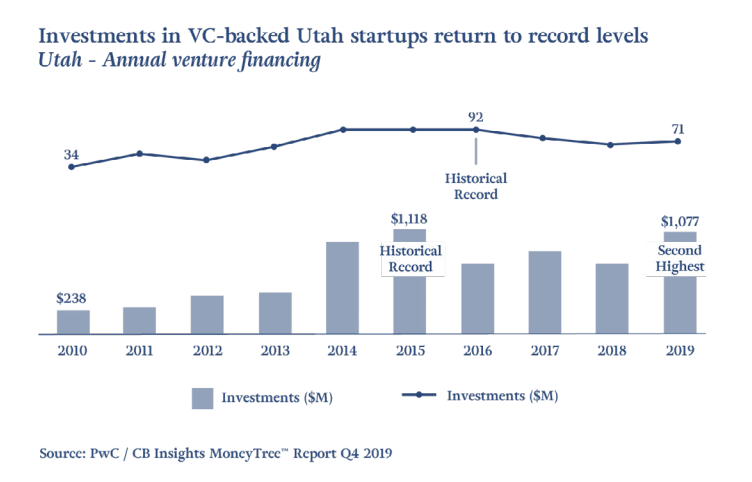 For additional MoneyTree data, including full results, please visit www.pwc.com/moneytree or contact me at ryan.j.dent@pwc.com. While MoneyTree attempts to gather as much VC funding data as possible, the report is not exhaustive, since some firms prefer to keep deal data private.
About Ryan J. Dent
Ryan J. Dent CPA, is a partner in PwC's Financial Services sector and has consulted with and supervised audit and consulting engagements of public and privately owned companies for 20 years. Ryan leads PwC's audit practice in Salt Lake, providing services to clients throughout Utah and nationally.